Our world of teaching has changed over the last few years–from virtually teaching to the gap in instruction to seeing more and more issues with focus and behavior.
It's time to look at the remaining curriculum, streamline it, and figure out how to get the most "bang" for the delivery method with truly focused instruction.
One thing that is becoming clear to me is that short and sweet is the way to go when teaching writing lessons.  We are supposed to have two long and in-depth writing projects at the end of the year, but I'm just not sure that type of work is the most effective. Instead, I believe focusing on small minilessons and shorter writing tasks is the way to go. I have some very explicit lessons I have yet to teach–but I'm going to tackle them with short task cards, brief responses, and other more manageable situations.
Short Writing Lessons. Focused Instruction.
What I wanted to do was focus my instruction at the sentence level, and I already had some task cards in my store that my students REALLY like–so I added the digital component. After that, I went through my curriculum and found a few more topics I need to cover this year and created sets to go with them. I know doing the big long process writing pieces have value, they really do. I will miss doing them with my students and am still trying to figure out how to do a modified version.
That being said, sometimes it's nice to be able to teach writing minilessons, do some good modeling, let students practice and get creative, and then share their success. That's exactly where I think these cards can help! I have four different writing strategies now that can be taught with a short minilesson and then some practice. If you use Seesaw or Padlet or other sharing platforms, it's a great way to have students share their work as well! Again, focused instruction with little planning or stress!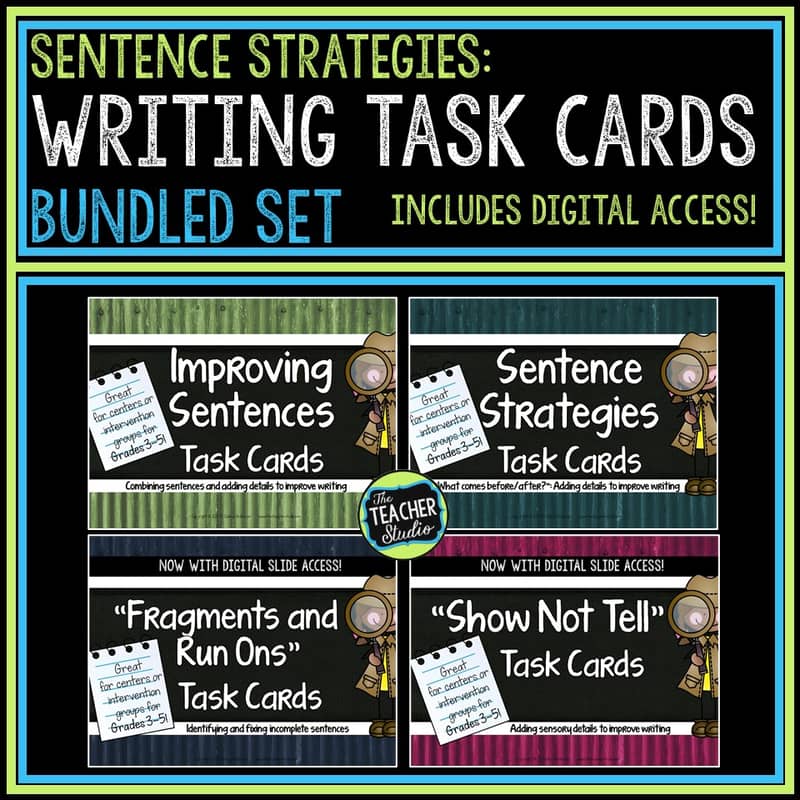 How can these help?
The bundled set I created includes task cards that help with the following writing skills:
Identifying fragments and run ons (maybe your kids have this figured out already but NOT. MINE.)
Combining sentences and adding details to write complex sentences (includes compound sentences, adding phrases at the beginning, etc)
Thinking about transitions—adding on to sentences (These cards are geared toward getting students to think in sequence…what would come before? What would come after? How can I connect sentences in a meaningful way?)
"Show not tell" to write with more sensory detail. (This is a huge one for me! Many of my students still write like a "newscast". This set can help them work more details in–with lots of writing hints along the way!)
All the sets include the following components:
Teaching tips and ideas
Color and black and white printable task cards (24 cards per set)
Printable recording sheets
Digital slide access. Students can record in text boxes on the slides OR on the digital recording sheet.
Optional extension ideas
Digital access is easy–each task card is on a slide with a text box.  There are also digital recording sheets at the end of each set if you would rather have them record on one sheet.
Anyhoo…if you are looking for some easy, fun, SHORT writing experiences, check them out!
Want to read a full blog post about one of these sets? It explains how to use them to teach with a gradual release model.  CLICK HERE!
Hey there!  Looking for more?  Follow me on social media and by email! 
and then you will get even more teaching tips, freebies, and offers delivered right to your mailbox!